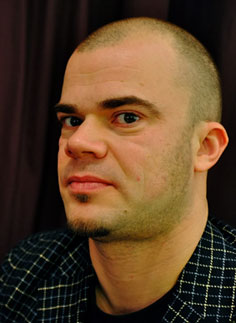 Adrian Jones, one of Swedens most established folk musicians, plays violin, viola, mandola and mandolin. He works within a wide range from traditional to contemporary with composition as a speciality. He has the fiddle tradition from the area around lake Siljan in Dalarna and he performs both solo and in duos, with Hadrian Prett among others.
Adrian works in groups as Gjallarhorn, Massivet, Folk All-in Band, Bowing 9, Nord String Quartet, Downhill Bluegrass Band och Susanne Rosenberg Ensemble among others. He is frequently engaged in different projects, for instance with Ale Möller, Golbang and different studio-recordings.
Adrian has a masterdegree from the folk music department at the Royal Collage of Music in Stockholm with composition as his profile. His music is colored by a strong folk music connection and he is well experienced in music arrangements. Adrian has composed music for Nord String Quartet, Bowing 9, Irmelin, Horn Please and recently Nybyggnan, a saxophone concert for Daniel Reid together with a string quartet.
Adrian is also propulsive in different projects. The current Nylands-project examines contact surfaces between swedish and american folk music. Vaerla Vaken is a collaboration between his own instrumental bande HiR and the vocal quartet Kongero.
Beyond his artistic activity, Adrian works regulary as a teacher, for instance at the Royal Collage of Music and at Bollnäs Folkhögskola where he's also responsible for the folk music program. He is engaded as a teacher in different fiddle courses and teaches second harmony playing. Adrian also helps with scores, notation and layout, for instance with Sofia Karlsson, Teater Sláva and Kraja.